Fragrances
Black Raspberry & Vanilla
Fresh blends of blackberries and raspberries combination that are sweet yet musky, with these alluring fragrances of white florals. Harmonised by notes of creamy vanilla and luscious musk.
Blush
A quintessential floral fragrance, with notes of red apple and the softness of suede, this fragrance is both elegant and devastatingly seductive. Layers of peony, rose, patchouli and musk makes it even more addictive, classy and a head-turner.
Coconut & Lime
A tantalising fusion of fresh coconut and lime. Invigorating verbena soothed by luscious vanilla, the ultimate refresher and classic. 
Flowers
An elegant explosion of floral sensations. Flower enchants you with jasmine, rose and orchid. Sweet and fresh blends of bergamot, finished with black tea and patchouli.
Ginger & Black Orchid 
A seductive floral scent with an emphasis on the heady aroma of orchid and the unexpected touch of ginger root, patchouli and musk. 
Hay & Honey
Hay & Honey will alight your home with fiery ambers and smoky incense, notes of dry tobacco and hay will set an earthy essence. Honey laying at its core and musk at its base, this fragrance is well rounded; not too smoky, not too sweet... Just perfect!
Into the woods
A warming and luscious woody scent with nots of bergamot and lemon peel, an earthy base of sandalwood, cedar wood and patchouli. Finished off with hints of vanilla and white musk. a perfect winters night fragrance. 
Laundry Day
Enjoy fresh aromas of Lemon, Lime, Lavender and Eucalyptus. Just like hanging up the laundry on a summer's day, finishing off with Cedarwood and Amber.
Lemongrass & Lime
The unmistakable natural, fresh citrus scent of lemongrass is combined with zesty lime, lemon peel and a soft floral undertone.
Lychee Peony
A fruity-floral combination of lychee fruit and the exquisite softness of peony petals. 
Movie Night
A gorgeous sweet treat with buttery top notes and just a touch of saltiness, rounded out with caramel, coconut, vanilla and creamy condensed milk.
Scented by Harry x The Candle Lab
Unit 3 / 9 Flinders Parade, North Lakes, 4509, QLD
Sunday - Closed
Monday / Tuesday - Appointment Only
Wednesday / Thursday / Friday - 11am until 4pm
Saturday - 10am until 1pm
Closed Public Holidays
Store location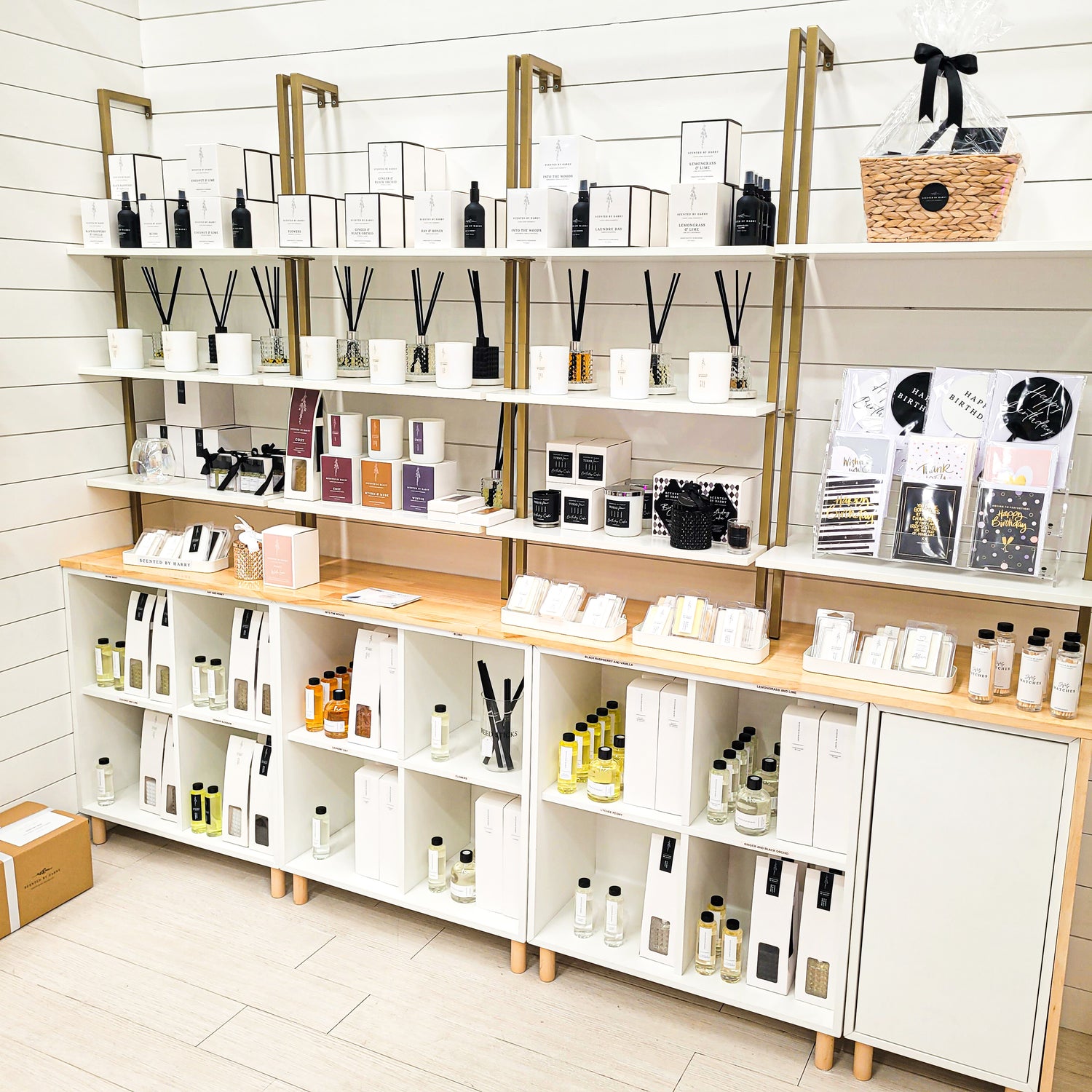 VEND Marketplace - Virginia
1768 Sandgate Road, Virginia, Queensland, 4014
Monday - Sunday 7am until 4pm
Store location
VEND Marketplace - Annerley
289 Ipswich Road, Annerley, Queensland, 4103
Monday - Sunday 8am until 4pm
Store location